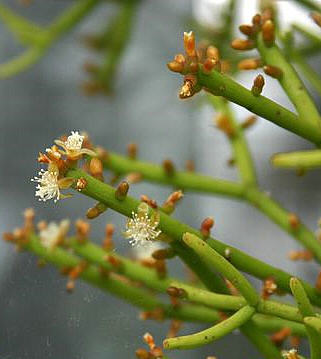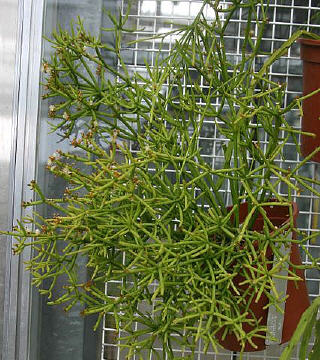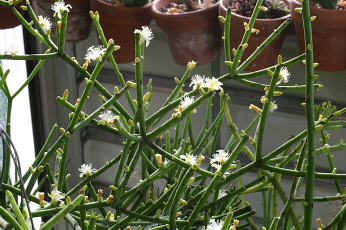 R. teres forma heteroclada (copyright KAF, Kew 2006)
Plant - stems stiff, dark green, but purple about areoles and tips of branches, often erect in cultivation, much branched toward top of plant
Branches -

often in verticillate clusters, much more slender than the main stem,1 to 2

mm. in diameter
Areoles - small, often bearing a single bristle;
Flowers

- small, white or greenish;
Petals -

5, obtuse, spreading or recurved;
Filaments -

about 20, white, erect;
Style -

white, sunken at base into a little cup;
Stigma - lobes 3, white;
Ovary - green, about 2 mm. long;
Fruit -

globose, 5 to 6 mm. in diameter, white.
This form has stout, cylindrical stem-seg­ments and yellowish flowers. It is often found as a lithophyte enduring high light intensity. The name R. conferta Salm-Dyck (1850: 229) is probably the earliest published for this taxon.