Rhipsalis floccosa Salm-Dyck in Pfeiffer, Enum. Cact. 134. 1837
Desc from B&R 1923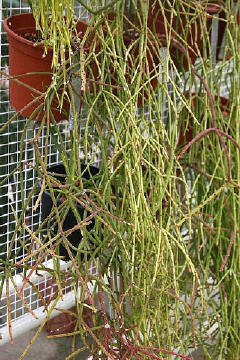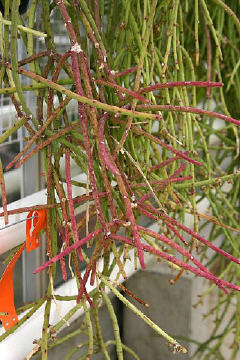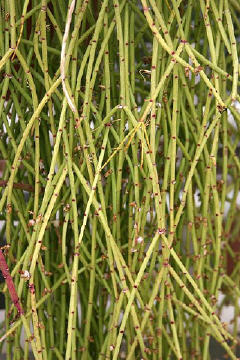 Stems - slender, 5 to 8 mm. in diameter, much branched, at first erect, becoming pendent;
Branches - alternate.
Flowers - lateral, 2 cm. broad, white, tinged with yellow, surrounded by a tuft of wool;
Ovary - sunken in the branch.
Fruit - globose, 5 mm. in diameter, rose-colored or nearly white.
subspecies floccosa
DISTRIBUTION. Northeastern to southeastern Brazil (Pernambuco to Sao Paulo): epiphytic and epilithic, sea level to 1850 m altitude.
The typical Brazilian form has green stems, small, greenish-white flowers (to c. 13 mm diam.) and white fruits, but at the southern limits of its range larger-flowered forms represent intergrades with subspecies pulvinigera.
Photos: copyright Ken Friedman, June 2006, Kew Botanic Garden.