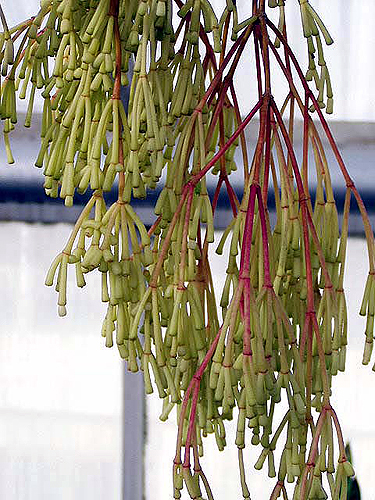 R. clavata, Brussels Botanical Garden © KAF
Desc from B&R 1923
Plant - erect when young but soon hanging, often a meter long or more, much branched; joints all similar, narrowly clavate. Sometimes 4-angled when young, short, 1 to 3 cm. long, deep green, becoming brown, produced in terminal whorls of 2 to 7.
Areoles - few, sometimes bearing 1 to 5 white hairs
Flowers - near end of branches, white, 1.5 cm. long
Petals - hardly spreading;
Fruit - spherical, 6 mm. in diameter, white or yellowish;
Seeds - 1.5 cm. long.
Type locality: Petropolis, in the state of Rio de Janeiro, Brazil.
forma clavata
DISTRIBUTION. Brazil (Rio de Janeiro, SE Sao Paulo): epiphyte in Atlantic forest, sea level to c. 1600 m altitude.
forma delicatula (Lofgren) Barthlott & N.P. Taylor
All stem-segments of this are more slender and delicate than in the homotypic form, but its occurrence appears to be random.
This species is much like Hatiora and it was really referred to Hariota at one time by Weber, himself. Schumann gives only one locality for it, but Dr. Rose found it on Corcobado in Rio de Janeiro, altitude 465 meters, growing on branches of trees, and on this plant the description has been partly based. Weber's manuscript name, Hariota clavata, has appeared only as a synonym of this species (Monatsschr. Kakteenk. 5:172. 1895).
From Bradleya 13: This species has often been compared with Hatiora spp. on account of its vegetative similarities. However, unlike these it does sometimes produce the extension shoots of indeterminate growth that characterize all species of Subgenus Erythrorhipsalis, although such shoots are much shorter than, for example, in the related R. campos-portoana.
From Bradleya 13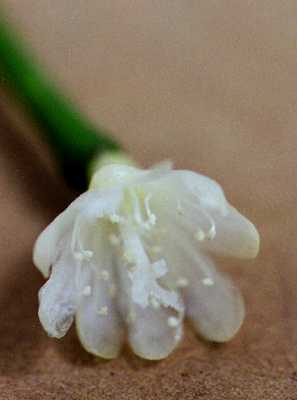 © Marcelo A.K. Fontana